Hello Leann's lovelyyyyy readers! My name is
Gentri
and I blog over at
Gentri Lee
. I'm super excited to be guest posting for Leann today and to be meeting all of you! A few days ago Leann took a trip down memory lane to her
dancing days
. It made me miss mine so much, so I decided to share a video and some pictures from my dancing days with you. :) Even though my dancing days were looooong ago, I still miss them. Dancing was such a big part of my life, how could I not? Actually, I am still somewhat involved in the dancing world. Up until a few months ago I was teaching dance. I recently decided it's time for me to move on and so I quit. I still take choreography and subbing (when I can) opportunities when they come my way of course. It's hard to break away from something that has been such a big part of me all my life. Anyways, onto the exciting stuff... First I'll let you watch (if you wanna... which you should...) a video. This was my Sr. year of High School. I was on the Dance Team. If you want to know which one I am- I start out in the front, standing, on the right. Got it? Try and follow me. If you loose me, just remember I'm the littlest one. haha! OH!! And so so sorry it's so hard to hear (the music that is. You can somewhat hear it if you turn up the volume). The school we were competing at decided they wanted to try and sabotage us (since we were the favorites to win) by turning our music wwaaaaaaaay down. We won anyways. ;)
What do you think? :)
Here's a picture of my solo... Sorry it's terrible quality. We didn't believe in nice cameras back then... Jk. We just didn't know a difference.
I actually won 1st place at Nationals with that solo. I REALLY wish I had a video of it... Can't believe I don't.
After High School I went on to dance/ perform at Disney World. Because I'm super short I was mostly "helping" (catch my drift??) the fur characters... Like these guys:
*note* In the top middle picture I was "helping" the elf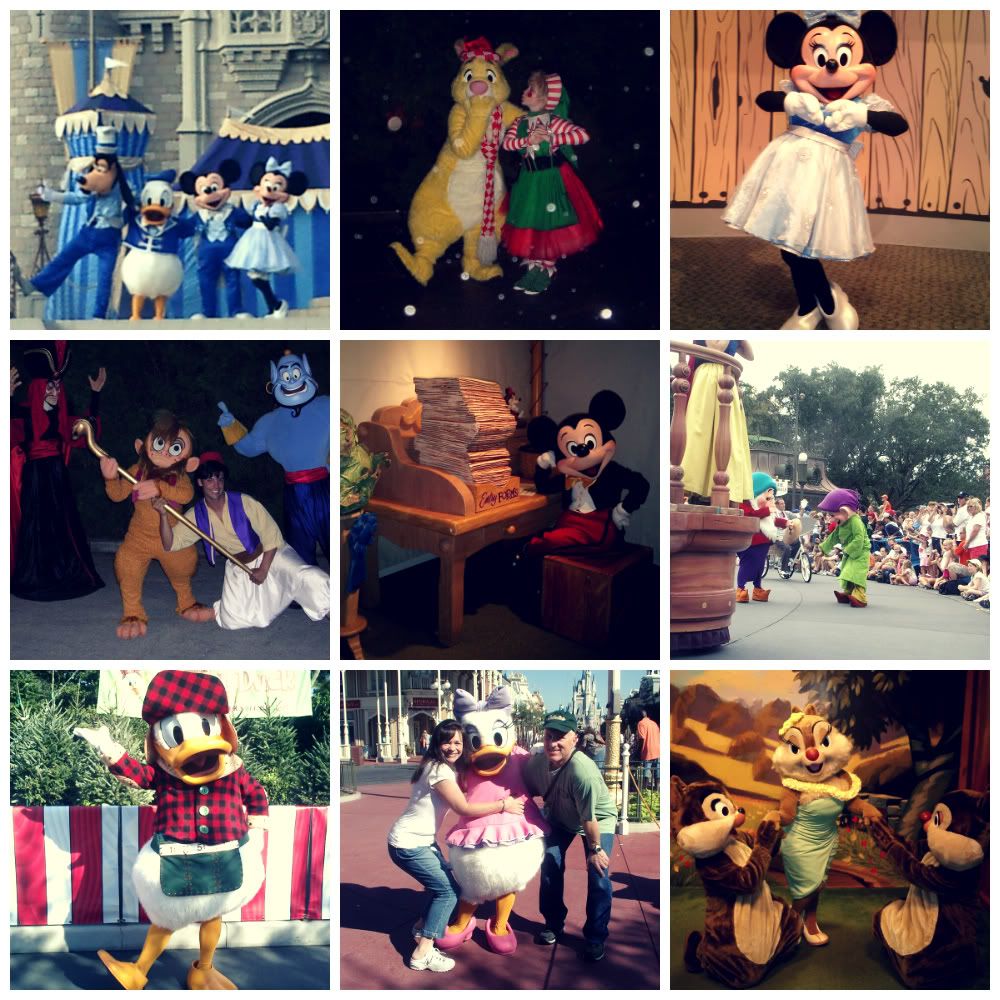 When I got home from that I went on to coach and teach at different studios and schools.
It was so fun taking a trip down memory lane. I've had a lot of bloggers ask me to show videos of my dancing. So there will definitely be more to come over at my bloggy. All I've got for now are old videos (since I've been more behind the scenes these days), I'll have to try and put a new one together. :)
Thank you so much for reading (and hopefully watching). I had so much fun and would love for you all to
stop by my blog
ANYTIME and say hello!
Love,
She's incredible isn't she?
i'm a little jealous of the fact that she did something with dance after high school.
Seriously go show her some love. her blog is adorable.